Something happened when I got to Basel. This journey was not meant to be a sightseeing tour but something about Switzerland got me. It turned me into a wide eyed tourist.
I think it is that the different regions are a weird David Lynch of their culturally aligned countries. Basel was like a quaint city in Germany but on acid. Estavayer le Lac is like a quaint French village but on mushrooms. Interlaken, well who knows what's up there.
I met up with my awesome online friend AK in Basel. It's so lovely to take these connections we make online and turn them into something stronger. AK had always been really friendly and supportive online, especially when I was having a bit of a mental health crisis. They mentioned that they weren't doing so good at the moment, so I hope I was able to offer a bit of solidarity in return even if it was just a nice walk by the river.
I stayed one night in a nice hostel in Basel, imaginatively named Basel Backpack. It was super nice, tucked away in some arty complex and with a relaxed modern feel. I almost wish I could have stayed longer in Basel as the anarchist and feminist graffiti suggested a possible radical hotspot that the twee turrets did not.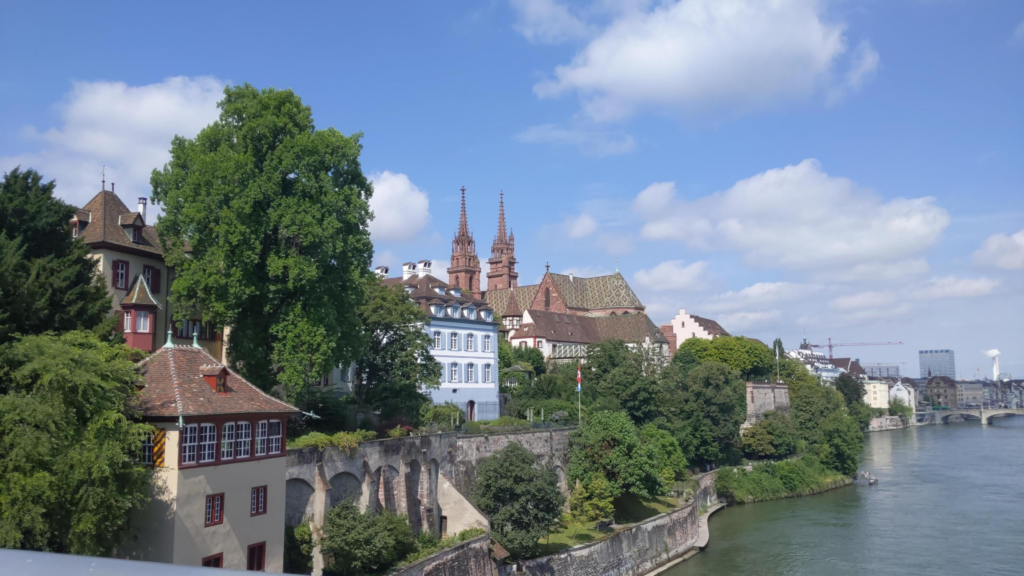 From Basel, I made my way via local trains to Estavayer le Lac in the French speaking part of Switzerland where my close friend and fellow co-op worker AL lived with her partner M. Me and AL have worked together for a while and have always got on really well. We met in person for the first time earlier in the Summer at a work meetup so it was brilliant to be able to spend some time together outside of that context.
Estavayer le Lac (or Esta for short) is possibly one of the most romantic little villages I have ever been to. Nestled on a huge lake, it has views of the mountains, medieval walls and other super old buildings. The time I spent there was like a dream. AL and M's hospitality was unbelievable. We ate brilliant food (M is an incredible chef), we swam in the lake, went to bars, went to the boulangerie, went on a boat across the lake, drifted in M's Tesla and I got to go on a motorbike for the first time which although we stuck to the speed limit, felt like we were in a Grant Turismo game I played in my youth. I can only extend my deepest thanks to AL and M for showing me such a lovely time.