Continuing my wild eyed tourist cosplay invoked by Swiss mountains, I decided to take a scenic train. Switzerland has many of them and they seem to mostly be free with the Interrail pass as of time of writing. If you are doing a similar trip, I really recommend looking at the pass benefits and discounts as there is some great stuff there and it can really make the pass seem great value. You can get many boats and scenic trains for free. In Switzerland, this basically meant I could get any scenic train and most boats on the lake.
I made a last minute decision to go to Interlaken, which is in the German speaking region of Switzerland in the alps. It's a super popular tourist destination due to it's easy access by train and it's mountainous surroundings where people do all some of extreme sports such as handgliding and skiing.
The reason I chose Interlaken is because there was a reasonable train connection from Estavayer-Le-Lac which involved the scenic train Goldenpasse Panoramic which goes from Montreux to Zweisimmen from which you change onto a normal train for the rest of the journey. It wasn't quite clear from the Goldenpasse website but you don't even have to book, you just rock up. There seems to be two trains that do the route. Make sure you somehow get the more vintage one, it's gorgeous.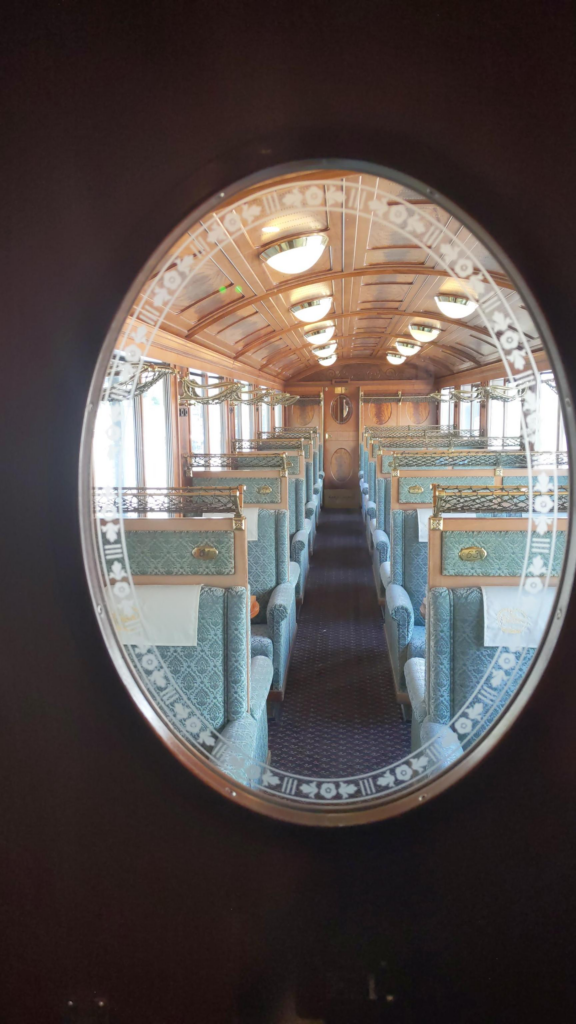 The train journey itself will take your breath away. It's like being in a Studio Ghibli film. It's so pretty it actually made me cry. There's something amazing about mountains. They have such ancient presence. I don't think my photos really capture it (and they have some reflections from the windows) but they're still a flavour of what it was like.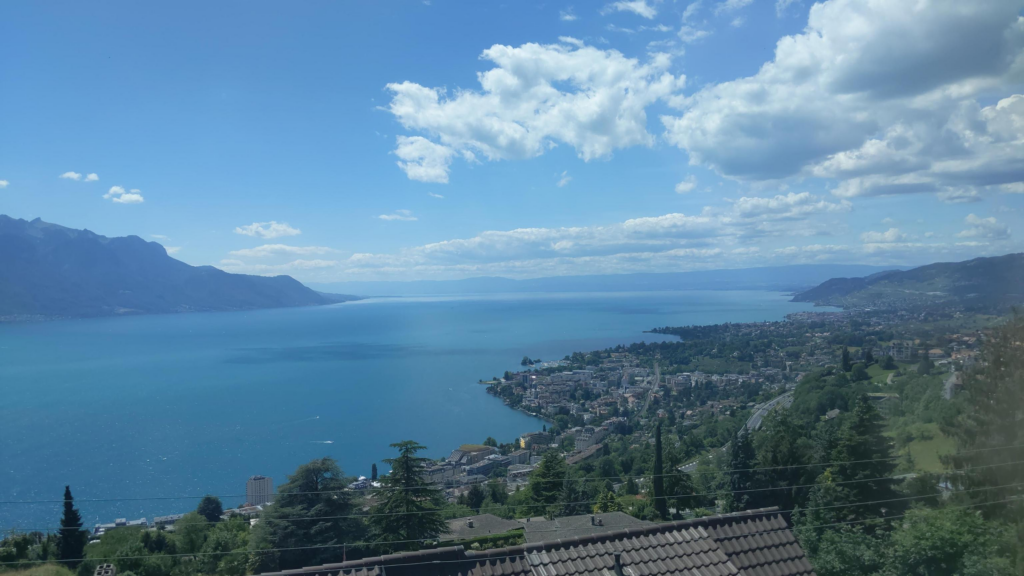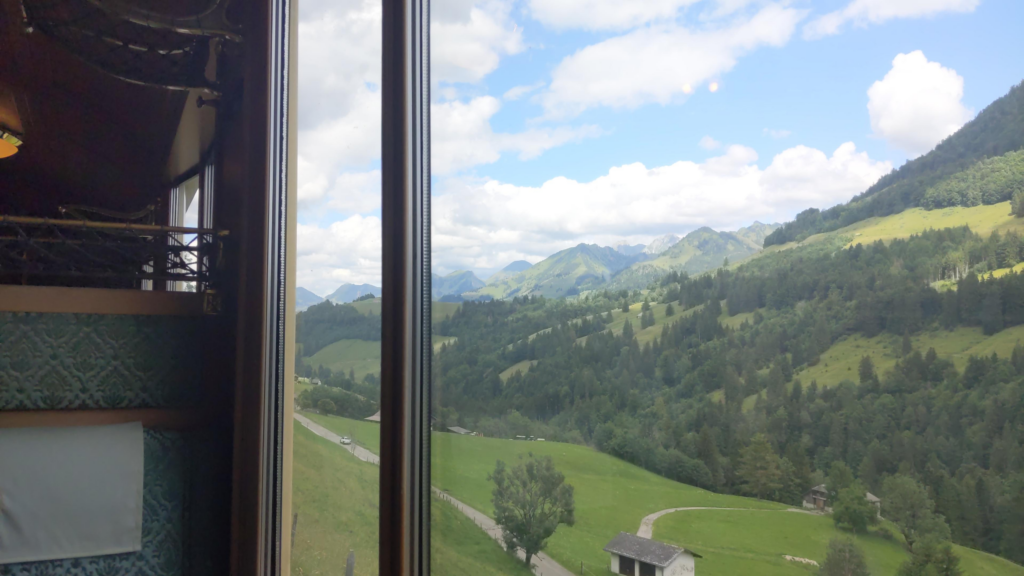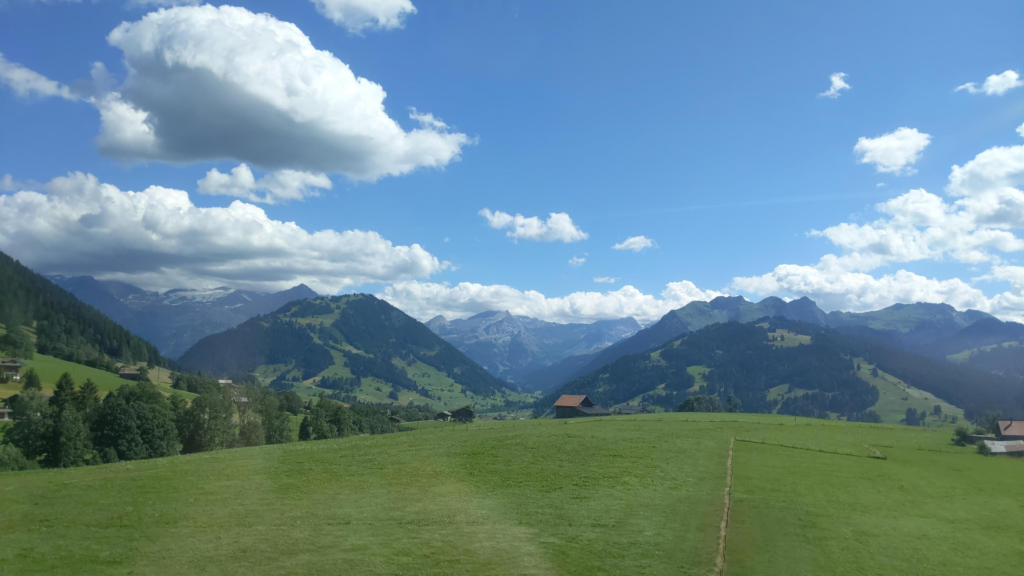 Arriving in Interlaken, it had all of the Swiss mountain village kitsch that I was looking for with Germanic Swiss lodges and the alps on all sides. I checked into my hostel Balmers which a big and popular hostel. It has a small swimming pool and hot tub and even a nightclub/bar downstairs. I generally found it nice and clean and the people in my 4 bed dorm were really nice. It's a bit of a mix of people though and some of the Australian and USian guys were a bit macho. I got a bit pissed off when then were taking the piss out of Francis Bourgeois, a famous Tik Tok trainspotter. I will defend Francis from these cunts. His pure joy has been really healing for peeps during the pandemic. Many autistic/ADHD peeps can really relate to the special interest joy and I feel like these blokes were basically mocking behaviour considered too different from mundane reality. Boring.
Seeking respite from the tourist masses, I headed to the suburban Bönigen area of Interlaken using the free bus pass from the hostel (quite common in Switzerland). It was quiet and pretty. People live quite the life here. I got stoned and tried to swim in the lake but honestly it was too cold! I could manage about 5 minutes before I emerged tingling from the waters to dry off.
After drying off, I heard the sound of a strange horn and wondered over to a bizarre Swiss cultural performance with dancers, flag jugglers and those awful bell type things. I really loved how the bell ringing group were never ready when it was their turn as all the men were too busy drinking and smoking. The vibe was excellent with an appreciative audience of tourists and locals. They even got the audience involved ringing the horrendous bells. Very punk.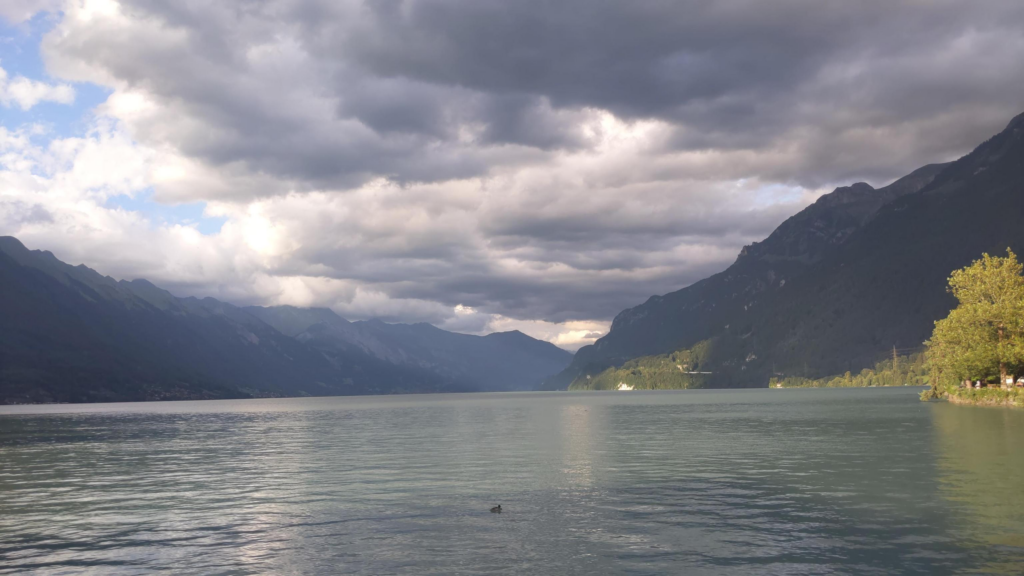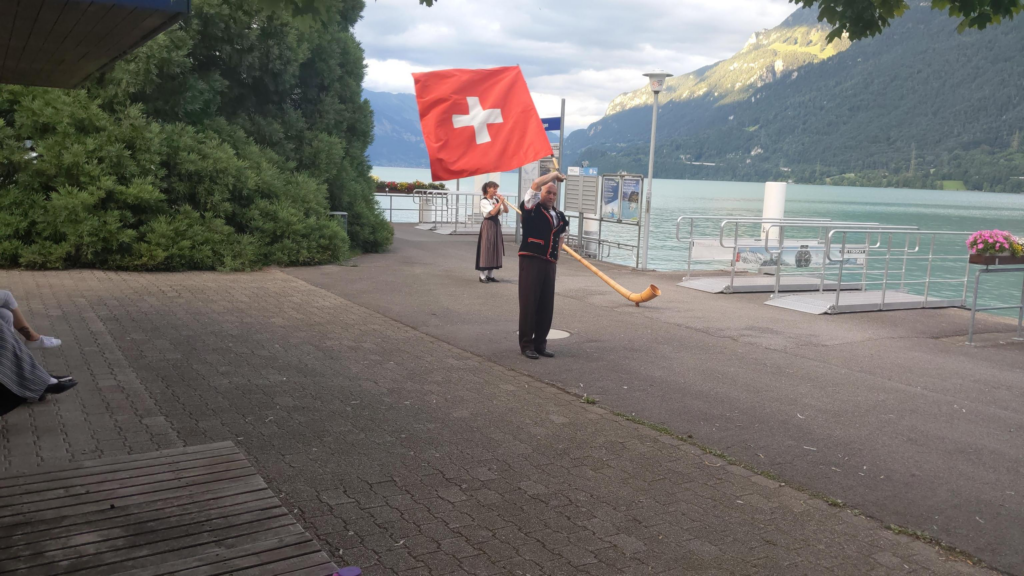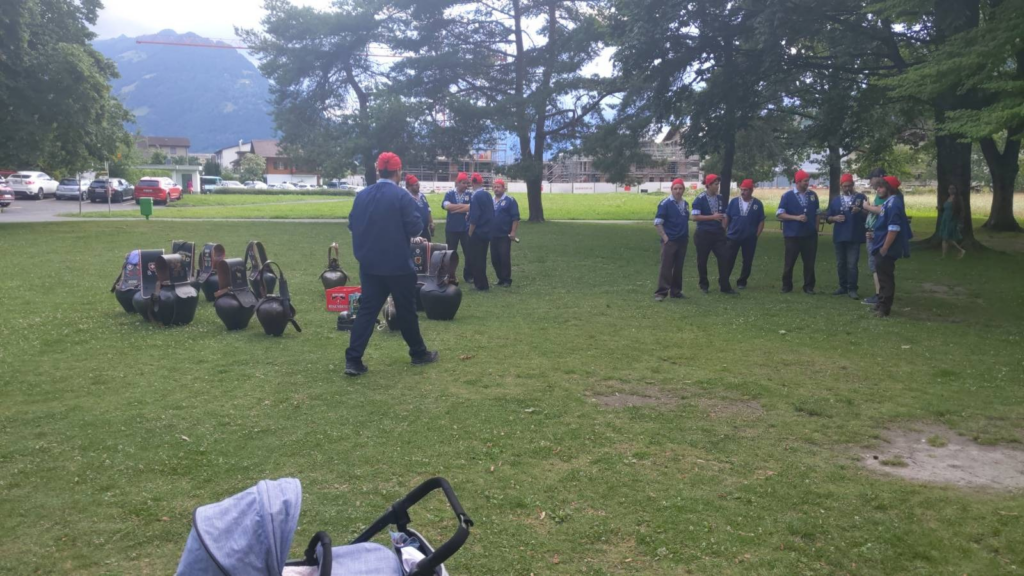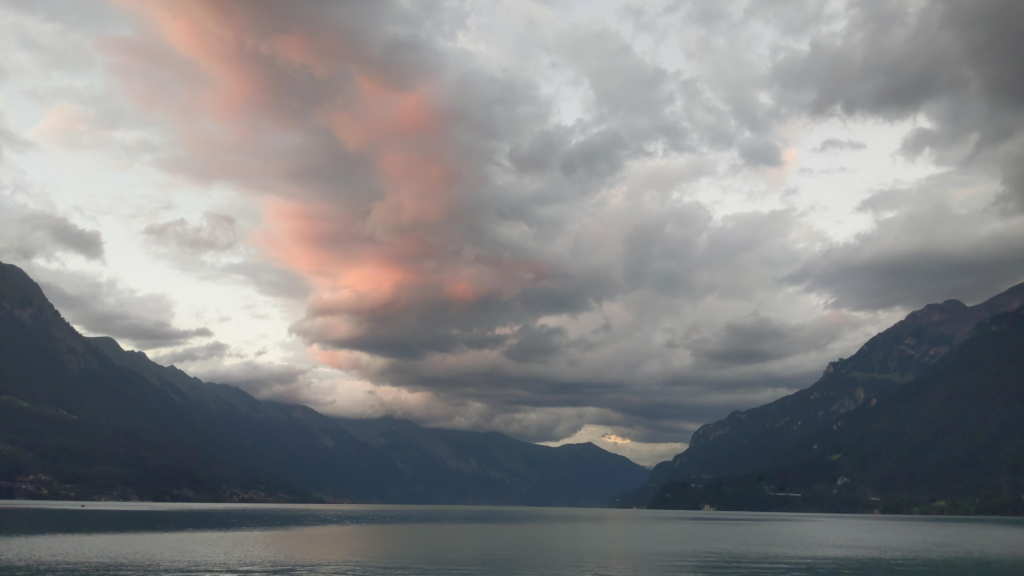 The next day I wanted to do more swimming so I went to The Beach – Bönigen lido which was much warmer. It was around 6 or so CHF and I spent many happy hours between the pool and sunbathing. The other swimmers were I think quite amused by my somewhat 1970s gay swimmer look complete with a big wide brimmed hat in the trans colours, glasses with clip on sunglasses and pubes spilling out of my Speedos.
I took some time out of my busy schedule to get the boat around the lake which was free with my Interrail pass. To my joy, it was the steam powered boat. Lots of good luck on this trip!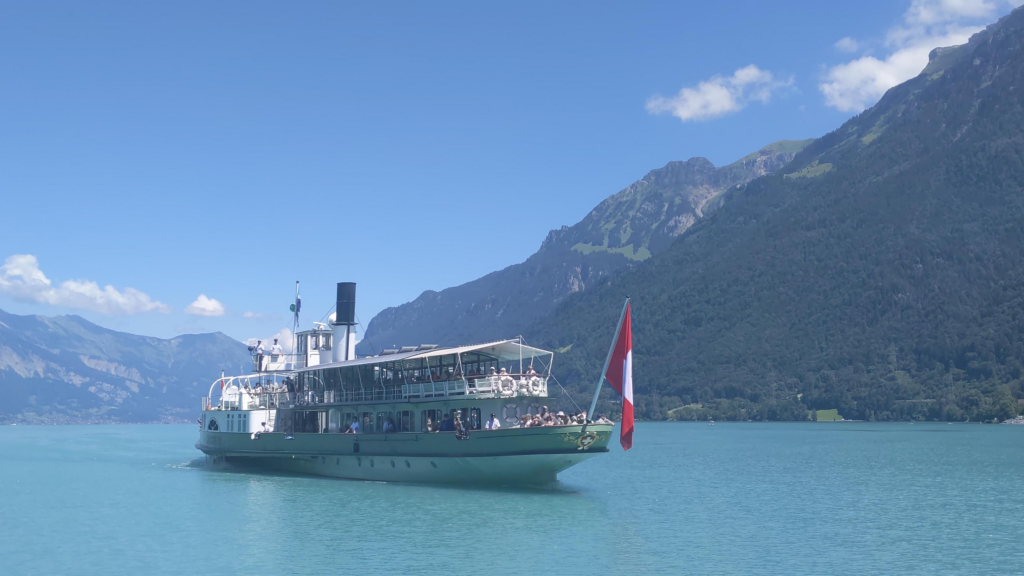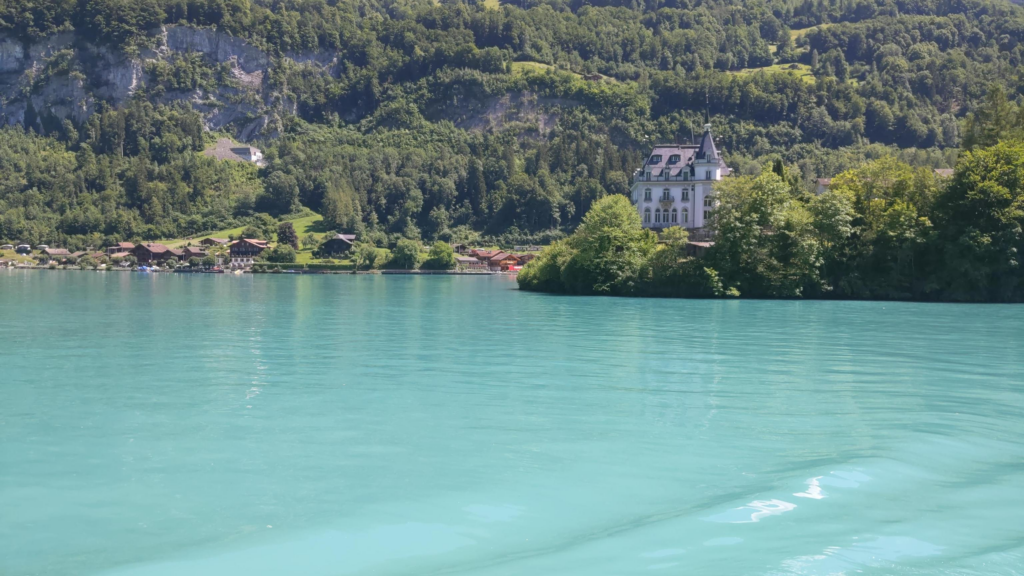 The boat trip around the lake took around two hours as there were many stops but none of them really took my fancy enough to spend a couple of hours in them till the next boat came around. It was very magical to hear the toot of the steam boat echoing off the mountain. Very magical.
I really enjoyed my time in Interlaken. It's possible to find quiet reflective spaces away from the baying masses. You just have to do the research and then trust your gut instinct and follow hunches. It was time to leave the mountains towards a very special event…